Kitesurfing colombia
Spotinfo | Kiteboarding | Surf | Windsurf
Salinas del Rey
Santa Veronica, Colombia
Season for kitesurfing in Salinas del Rey @ Santa Veronica
Best season for kitesuring in Salinas del Rey is from mid December to end of may when its blowing 25-35 knots pretty much every day. Our second season is from mid June until early August with winds in the range of 15-27 knots, though not daily. Expect plenty of windy days in between as well.
Safe for beginners, large shallow area and onshore / sideshore wind
Wave and flatwater in the same spot
Accomodation in walking distance
Location
Access is easy, Santa Veronica is located between Barranquilla and Cartagena, both have airports with international flights.
Small crowd = Make new friends
The village of Santa Veronica is small and you'll soon be able to make new kitefriends on the beach or in the hostel.
Friendly
Santa Veronica has a laid-back atmosphere. Colombians from the area have their beach-homes here and kitesurfers come from all over the world.
Travel-Advice
Check our sister-website SantaVeroncia.com for details about kite-hostels in Santa Veronica, transport and more.
You should know this when  you plan your
trip to Santa Veroncia
The kitespot in Salinas del Rey might look and feel remote. But it's very accessible due to it's location between the colombian tourist-capital of Cartagena and the capital of the region of Atlántico, Barranquilla.
The best time to visit Santa Veroncia for kitesurfing?
Wind is constant first 3-4 months of the year.
How do I travel to Santa Veronica?
Via Barranquilla or Cartagena. From Barranquilla there is a local direct bus. From Cartagena there are various buses going to Barranquilla that will stop along the highway as it passes Santa Veronica. From there you can get a tuk-tuk/carro-coche.
What kitesize should I bring ?
Depends on your size and board but a man should be able to kite all days pretty much with a 7 and a 9. Go down a meter or two depending on your weight.
What hotels and apartments are suited for kitesurfers?
Join our newsletter & Whatsapp-Group
Join our newsletter for seasonal updates, news and good deals from kitehostels, kiteshools in Salinas del Rey and Santa Veronica. In our Whatsapp group you can ask for tips, weather updates and join us for a downwind.
Kitespot: Salinas del Rey, Colombia
"The most windy costal region of Colombia is the Atlántico. It's at its strongest, yet very gusty, close to Barranquilla and weaker as the wind reaches Cartagena . Located in between is the village of Santa Veronica with the kitespot named Salinas del Rey."
"Key to the spot in Santa Veroncia is the bay at the send of Salinas del Rey. The shape of the bay creates a unique spot with both flat areas and waves with clear shapes and flats between the sets. It's also an excellent base for large  range of downwinds, lasting from 30 minutes to six hours."
"The flat and shallow areas in the bay are popular for those learning to kitesurf. It's a safe spot to learn as both wind and waves bring any kiter back to the sandy beach. There are no obstacles inside the bay."
Kitesurfing in Salinas del Rey and Santa Veronica, Colombia
Kite-hostels and hotels in Santa Veronica, Salinas del Rey
Kitehostens and cheap apartments for rent in Santa Veronica, Salinas del Rey.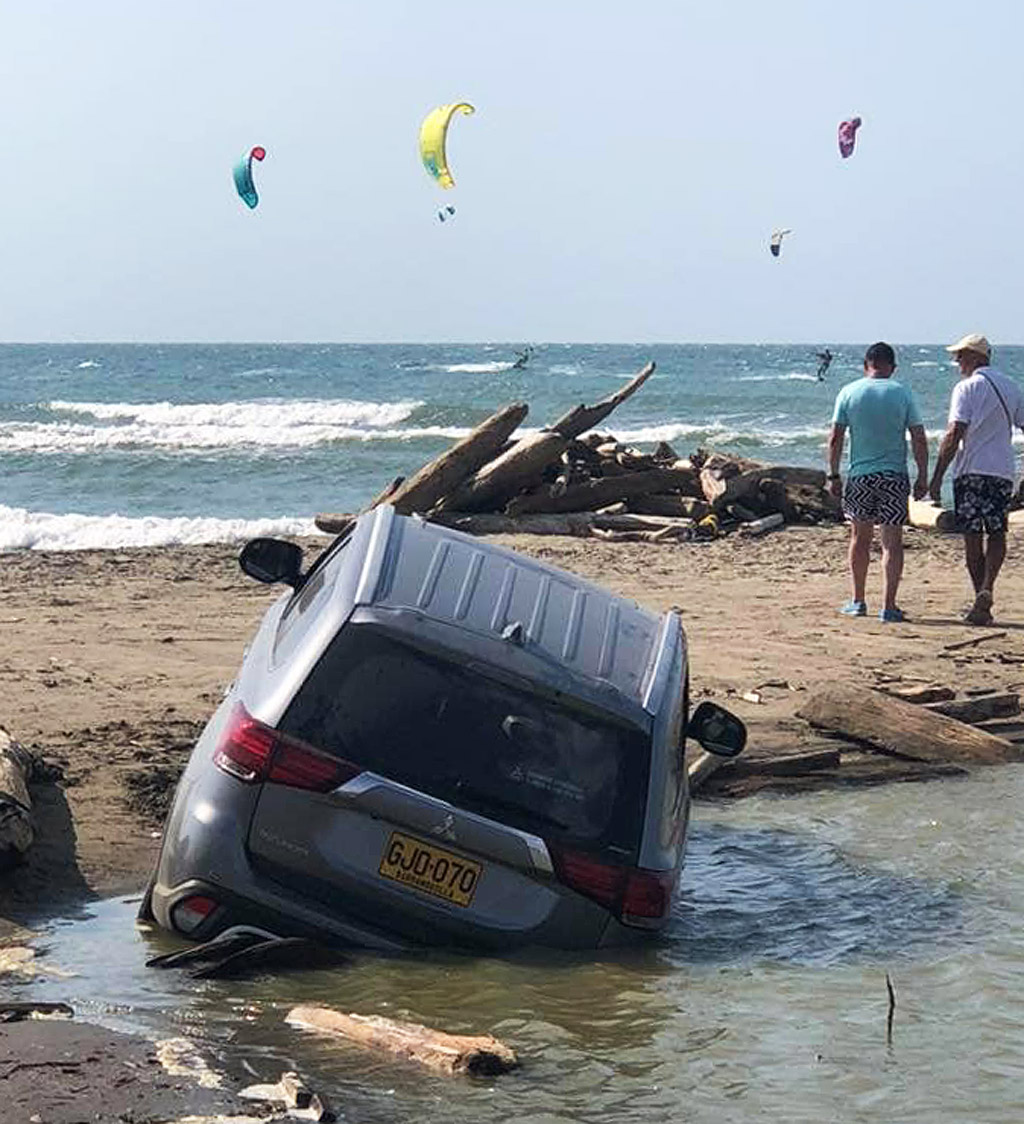 Transport: Getting to Santa Veronica and getting around
How to arrive via Cartagena or Barranquilla.
Kiteshools in Salinas del Rey, Santa Veronica
There are two local kiteshools on the spot in Salinas del Rey.
Kitesurfing, wavesurfing and windsurfing. All in one spot. Salinas del Rey, Santa Veronica, Colombia
Kitesuring in Colombia is growing. So is the number of international kitesurfers that are discovering these uncrowded and windy spots in Colombia.
Santa Veronica has the most stable, non-gusty wind of any spot in Colombia, combined with a safe bay for kitesurfers learing and unlimited downwind kitexperiences.